After a few days ago Bitcoin Gold was created and the price was still not 100% after a few days and many speculators were disappointed, the next Hardfork is starting.
Bitcoin Silver is supposed to be the next big thing in the crypt world and supposedly solve a basic problem of many crypto fans: that everyone, no matter how much hardware he brings, can mine bitcoins. But what exactly is behind it?
What

is

Bitcoin Silver and the

mission behind

the coin?
The use and accessibility of cryptocurrency in the First World countries is getting bigger and fully functional, but what about the rest of the world?
Countries without Internet / Wi-Fi in every area or near Internet cafés on every corner?
Bitcoin Silver now wants to find a solution to this problem:
An affordable cryptocurrency running on a fast blockchain network, with a clever contract and smart wallet technology.
The goal of the developers is to ensure that every human being, whether rich or poor in the world, has access to cryptocurrencies, such as Bitcoin Silver has.
But what makes Bitcoin Silver so special compared to Bitcoin?
Bitcoin Silver is said to run at a similar speed as the Ethereum Blockchain, a massive global infrastructure that can bring value around the world in minutes.
After further updates, it will be possible to process several thousand transactions per second per second in the future. This will allow the blockchain technology to handle more transactions than e.g. the payment service VISA.
The roadmap for Bitcoin Silver is currently not very far into the future but limited to a few essential pieces of information.
At the moment the ICO is still running, where more investors (of course you too) can participate.
On November 21, the tokens will be released to the market, and on November 23, Bitcoin Silver will be tradable through a number of exchanges.
Next year in January and March, there will be the first Bitcoin Silver Wallet for the web as well as the desktop version.
In July, there will be more conferences that decide on the course or future work of the development team.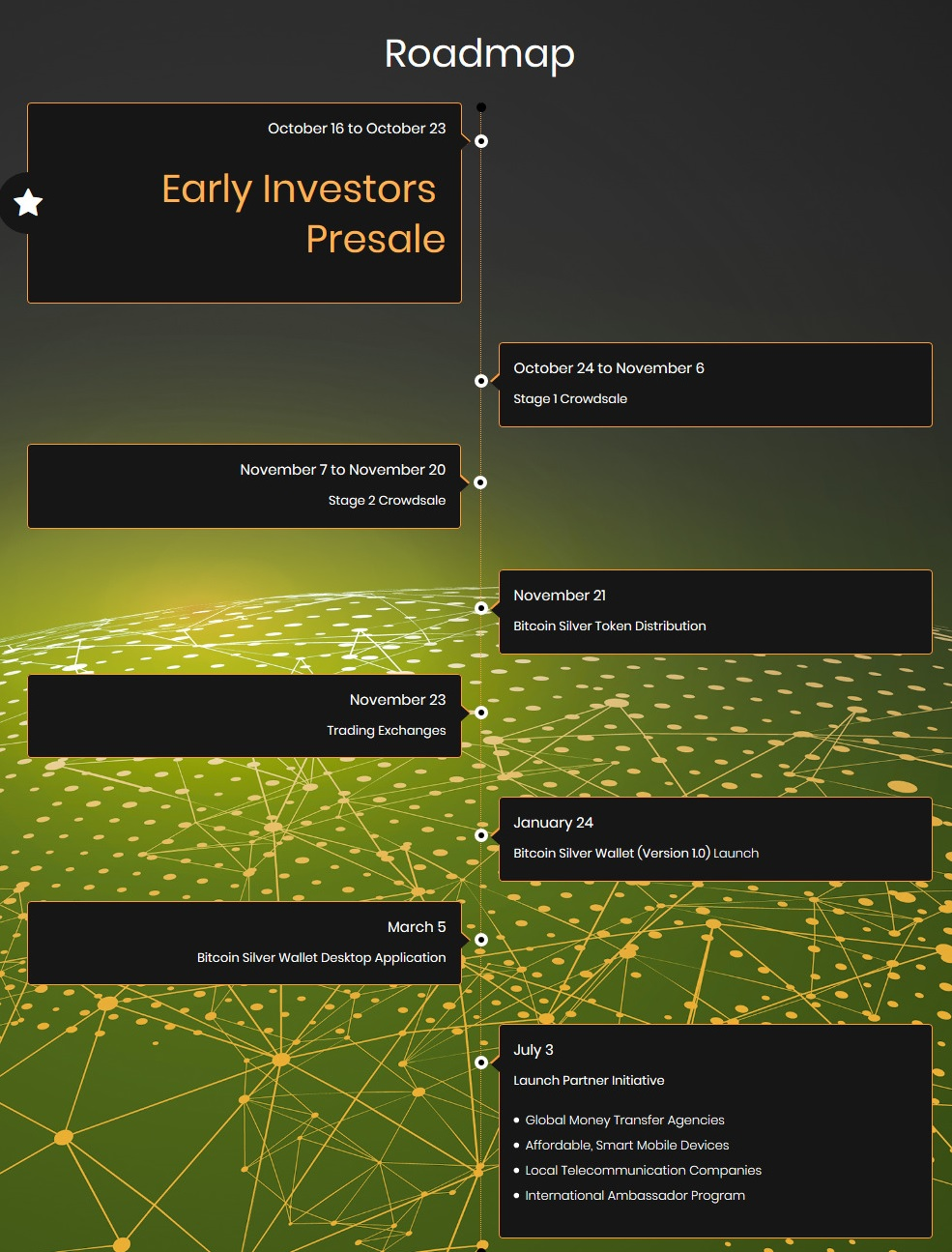 Official website: bitcoinsilver.io
Whitepaper: Bitcoin Silver Whitepaper